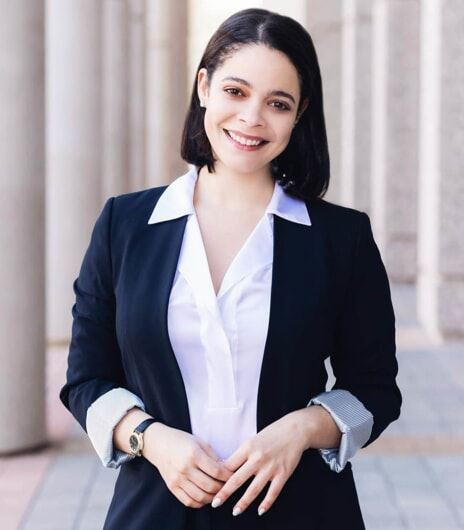 Attorney Claudia Barceló
Claudia went to law school with one focus: to help people when they are most vulnerable. It was her central focus through her medical studies as an Emergency Room intern. Life led Claudia to law school, and today she uses skills from both disciplines to assist clients suffering catastrophic injuries, the wrongful death of a loved one, families of children injured during birth, and survivors of sexual abuse. Claudia attended Florida International University, where she graduated magna cum laude and earned her degree in Philosophy and European Intellectual History.
Upon graduation, Claudia was inducted into Phi Beta Kappa and named a Florida International University Worlds Ahead graduate. Claudia went on to attend Campbell University Law School in North Carolina, where she graduated with honors and earned numerous merit and endowments including:
The Campbell University Merit Scholarship
The Donald & Elizabeth Cooke Foundation Endowed Merit Scholarship
The Minnie Deans Lamm Endowed Merit Scholarship
Multiple Campbell University Teaching Scholar Scholarships, which involved co-teaching courses in Wills, Trusts & Estates, Federal Rules of Evidence, Contracts, Torts, and Constitutional Law.
In 2021, the Wake County Bar Association awarded Claudia one of its two Merit Endowments, and in 2022, she received one of three North Carolina Advocates for Justice Student Advocacy Awards.
While in law school, Claudia interned at the North Carolina State Bureau of Investigations as an intern for Deputy General Counsel J. Joy Strickland. Claudia has spoken and written on topics involving child trafficking and exploitation, cybercrimes against children, as well as the constitutional implications of hearsay exceptions under the Federal Rules of Evidence — all topics which inform her daily practice, as well as her work as Guardian ad Litem in the 10th Judicial District, where she advocates on behalf of children in legal proceedings. In addition, she is a member of the North Carolina Advocates for Justice, an association of legal professionals working to protect people's rights through the community, education, and advocacy.
In her free time, Claudia loves to read, especially about constitutional law, though her favorite book of all time is "The Little Prince." She also practices Muay Thai Kickboxing. Claudia lives with her fiancé, Sean, and their three pups, Maximillien, Pookie, and Angus.
Claudia is a native Spanish speaker and is fluent in French and Italian.
Practice Areas
Personal Injury
Wrongful Death,
Motor Vehicle Accidents
Birth Injury
Bar Admissions
Education
Campbell Law School, J.D. (Honors) - 2022
Florida International University, B.A. (Honors) - 2015